Amazon Quiz Daily Answer 24th September Quiz :-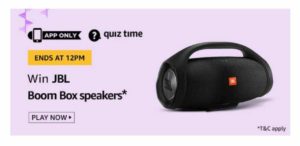 Amazon 24th September Quiz Answers :-
Question 1 – The Korea Open 2019 is starting today. Which of these sports is played in Korea Open?
Answers is – Badminton
Question 2 – Which of the following national parks in Rajasthan is a World Heritage Site and is of international importance for some migratory bird species?
Answers is – Keoladeo National Park
Question 3 – The atomic number of lead is 82. What is the chemical symbol of lead?
Answers is – Pb
Question 4 – Wellington is the capital of an island country that has more sheep than people. Which country is this?
Answers is – New Zealand
Question 5 – India has the shortest written constitution of any sovereign country in the world.
Answers is – False